FOLLOW THE BILBIES:
When the mother is not at home, things get ugly for any father. But if we talk about dogs, then it can not be more funny, because for small puppies like this Bóxer litter, there is nothing in the world more tempting than breast milk.
The most basic thing about baby animals is that they love to be breastfed. If it were for them, they would be glued to their mothers' breasts 24 hours a day, seven days a week.
Hungry puppies follow dad for food
Only a mother knows how to say that enough is enough. But, if she is absent for an hour or so, what would the father do? Find out in this nice video:
In the video we can see an adorable litter of puppies from Portsmouth, Ohio, (United States), when his mother is not present. The children are hungry and believe that their father, Remo, would be an excellent substitute. So, when they see him, everyone runs towards him with great expectations.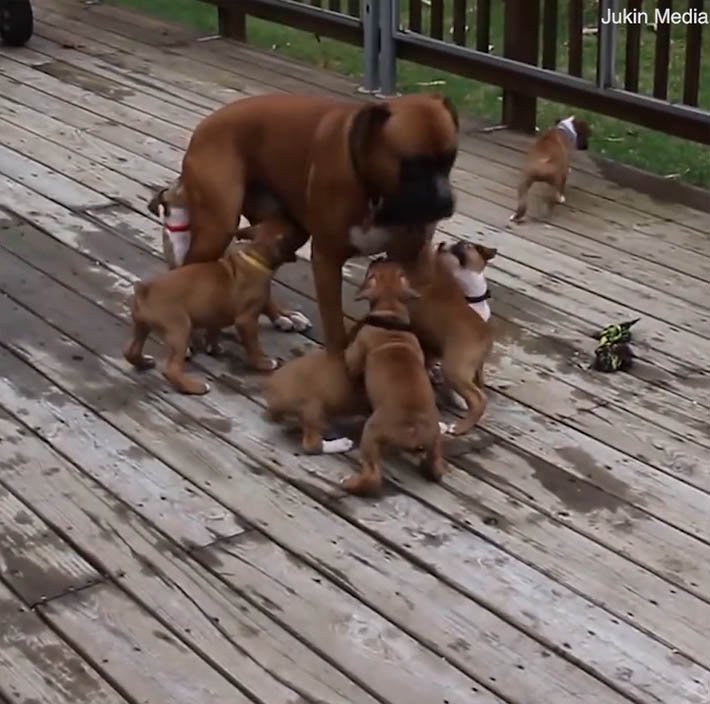 But, Remo had no idea what poor mother goes through every day, now he must have an idea of how difficult it is to raise children.
Although he is far from being physically equipped to deal with the issue at hand, Remo does everything possible to keep the pups from nibbling on him and anything to maintain his dignity.
Remo has to escape again and again from his pups.